Nestled upstairs in the Fenwick York department store is Cafe 21.  I was recently invited to try their fixed price menu lunch and I took my mum for a lovely afternoon out.  We arrived slightly earlier than we had booked and fortunately our table was ready.  There was a great buzz in the restaurant over lunchtime and it was nice to see so many people enjoying themselves.
I would describe the interior of Cafe 21 as "Instagrammable", we sat on a pink sofa, they have beautiful lighting and some cool wallpaper which would make a great photo background.  The highlight though is most definitely the food.
Lunch at Cafe 21 in York
We had the lunchtime fixed price menu which had a selection of 3 starters, 3 mains and 3 desserts to choose from.  For starters, I had the celeriac soup which was divine, it upped my expectation for how soup should taste from now on.  My mum went for whipped goats curd with heirloom tomatoes and she thoroughly enjoyed it. 
We also enjoyed a glass of prosecco which is always a nice addition to any meal.
For mains, I had fillet of cod and my mum the Yorkshire-reared pork chop.  Both meals were stunning, full of flavour and we each got a side, mine was new potatoes and my mum's fries which we shared.  This is such a nice restaurant and the food portions are a good size.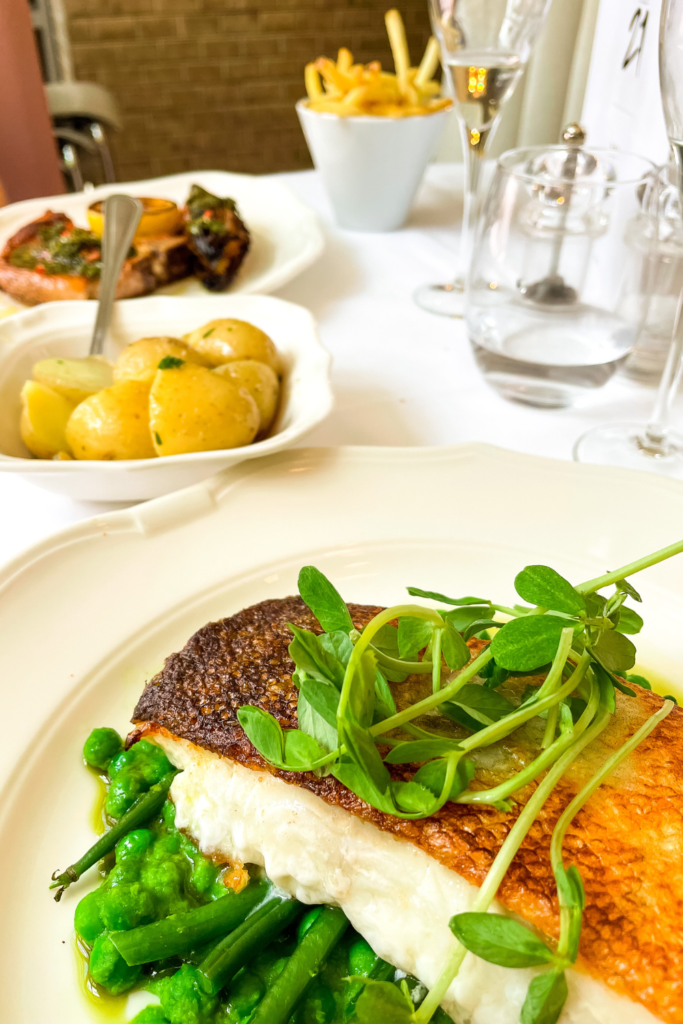 It was finally time for dessert.  My mum had the vanilla panna cotta which she thought was fabulous, one of the best she had enjoyed.  I picked the strawberry cheesecake which was also delicious, it had the perfect base and wasn't too creamy for me.  
Overall our meal was fantastic, there wasn't anything we could fault for the food. The service was excellent as well. All the staff we encountered were really friendly and made the experience even better.
We finished our meal with a cappuccino for mum and a diet coke for me.  Cafe 21 is a great place to get away from the hustle and bustle of York.  We had a walk outside beforehand and Coppergate is always busy as it's home to the Jorvik Viking Museum.  Cafe 21 also currently has a pop-up cafe outside of Fenwick which is ideal for a drink stop.
Cafe 21 Accessibility
I am currently using a crutch as I continue my journey to recovery after breaking my ankle.  I have to say that Cafe 21 was very easy and accessible for me. We parked in the car park next to Fenwick.  There were no steps from the car park, to inside Fenwick or the cafe.  Cafe 21 is very near the department store toilets which has an accessible one if you need it.  It was also easy to navigate around the shop and do some shopping whilst I was there too.
Visiting Cafe 21
I didn't know what to expect but I will definitely visit Cafe 21 again.  Not only do they have their fixed-price lunch menu but they have a vast normal menu which also looked like it had some delicious items on there. It's away from the crowds of York and has a lovely feel about it. It's a great place to meet friends or have a lunchtime date.
Visit the Cafe 21 York website here.
The Yorkshire Edit was invited for lunch in exchange for an honest review. All views are my own.