10 Yorkshire Cocktail Bars
There is nothing more fun than going out for a cocktail and there are so many different cocktail bars across Yorkshire. I have selected 10 of my favourite Yorkshire Cocktail Bars which I have visited & drunk a cocktail in – So I can confirm they are good!
There are so many more bars in Yorkshire that serve delicious cocktails, there's only one thing for it, I need to get out and sample them so I can report back and create another list!
For now, I have curated 10 Yorkshire cocktail bars which are perfect for drinks with friends or date night.
RELATED: 10 amazing places to visit in Yorkshire
10 Yorkshire Cocktail Bars
99 & Main, Bingley
This is a lovely little bar on Bingley Main Street and I must admit it's the one I have visited the most! I love their cosmopolitan but they have a large selection and always friendly staff.
Below Stairs, Leeds
You do go below stairs to visit this bar and I had no idea about it until Keil said he had seen it. They definitely offer quirky cocktails but you can ask for anything else that isn't on the menu if you prefer- Just remember you have to walk back up the stairs when you have finished!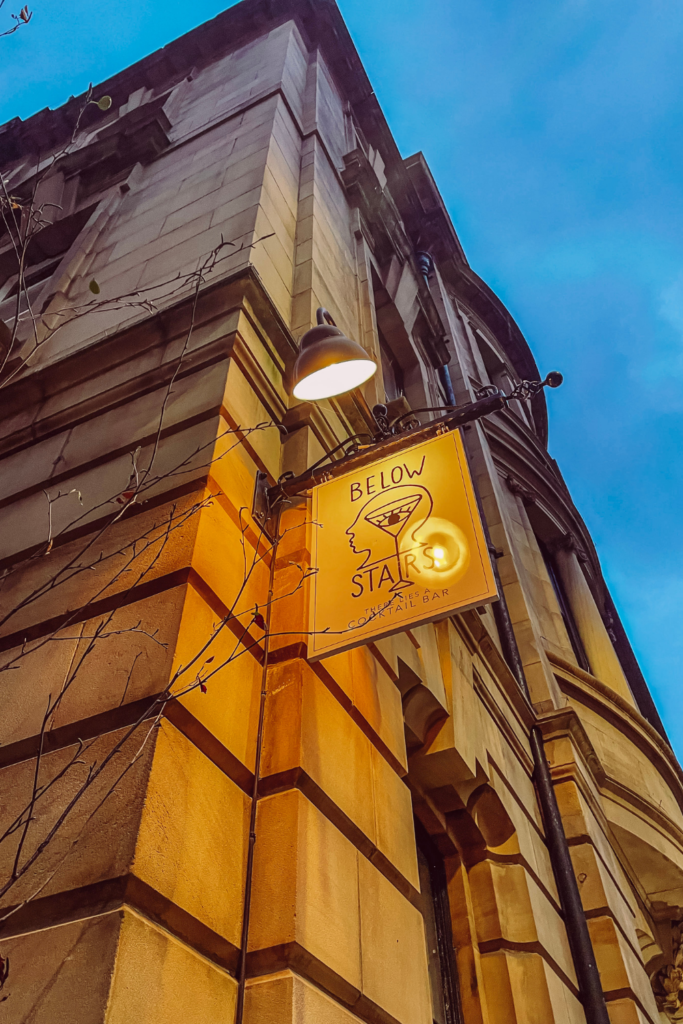 The Maven, Leeds
This is another one which took a little bit of finding the first time as it's not obvious and this time it's upstairs. It's a dark bar, great for a secret date! They have a great selection and I've also been to a couple of private functions here too.
The Alchemist, Leeds
There are 2 of these in Leeds city centre, one in the Trinity Centre and the other on Greek Street. They have a large selection of cocktails and they both have outdoor spaces for sunny summer days.
The Botanist, Leeds
Slotted under the Trinity Centre The Botanist has a garden theme and some delicious cocktails too. We once had a brilliant Christmas Eve here but of course, you can visit at any time of year for a cocktail or two.
Tallulah's, Saltaire
Tallulah's in Saltaire has a nice selection of cocktails and it's another bar we like to visit regularly. It's cosy but they do have an upstairs and I always get the cosmopolitan here!
Al's Juke Bar, Bradford
Whenever I am out in Bradford with friends we usually stop at Al's Juke Bar for a few cocktails. On a weekend they often have live music and a nice selection of cocktails to enjoy.
Lost & Found Leeds Club, Leeds
I love the Lost & Found Club for its indoor tree which is stunning the first time you see it. I also like their Planter Punch, it's my go-to cocktail here.
Dakota, Leeds
The sophisticated bar inside the hotel offers some wonderful cocktails and it often feels like you are away from the hustle and bustle of Greek Street. This is a great stop-off point for cocktails when you are shopping or for date night.
There are plenty of cocktail bars to choose from across Yorkshire but these are 10 of my favourites to plan your next cocktail night (or day)!